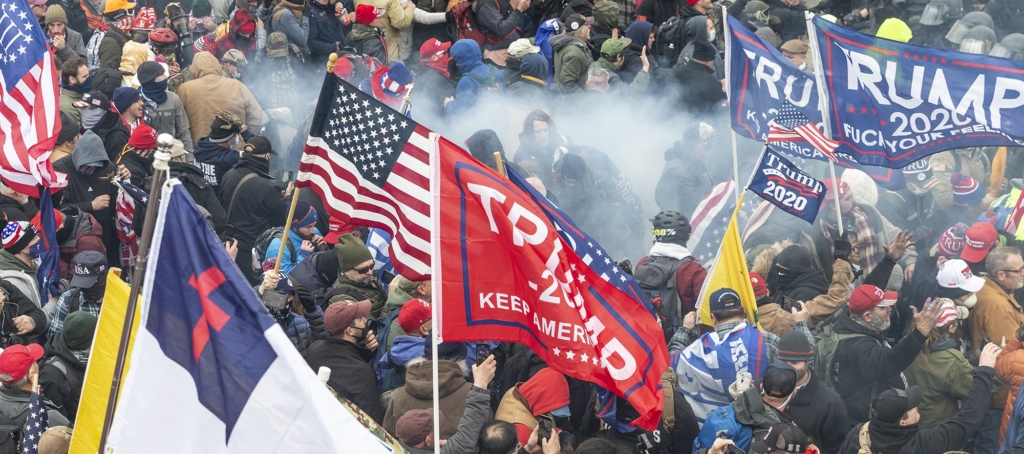 The Dangerous Heresy of Christian Nationalism
Brian Zahnd
The insurrectionist attack upon the Capitol on January 6 was the most disturbing American moment since 9/11. Like millions of others I watched this awful event with grief-stricken horror on live television. As an angry mob of aggrieved Trump supporters surged up the Capitol steps, I saw among the flags and banners a "Jesus Saves" sign. My first thought was, "that's what it means to take the name of the Lord in vain." Among the Proud Boys, Oath Keepers, white supremacists, and QAnon theorists, there were Christian nationalists who honestly believed they were somehow serving Jesus by participating in a violent insurrection. On January 6 we saw the danger of Christian nationalism on full display.
Christian nationalism is the idolatrous conflation of Christian faith with American patriotism. Those under the sway of Christian nationalism essentially confuse America for the kingdom of God. The Bill of Rights is held as sacred as the Beatitudes and the Second Amendment is as revered as the Second Commandment ("Love your neighbor as yourself."). Baptismal identity is eclipsed by national identity and rightwing politics overshadows the Sermon on the Mount.
I don't place too much blame on rank-and-file Christians who have departed from the true faith for the idolatry of religious nationalism — they are the inevitable disciples created by forty years of evangelical nationalism. But I do blame the pastors, preachers, and false prophets who have led the sheep down this disastrous path. Franklin Graham, Jerry Falwell Jr., Pat Robertson, Paula White, Robert Jeffress, and all the rest share a deep culpability in the distortion of Christian faith into the heresy of religious nationalism. They should know better.
Read more