Returning To The Way of St. James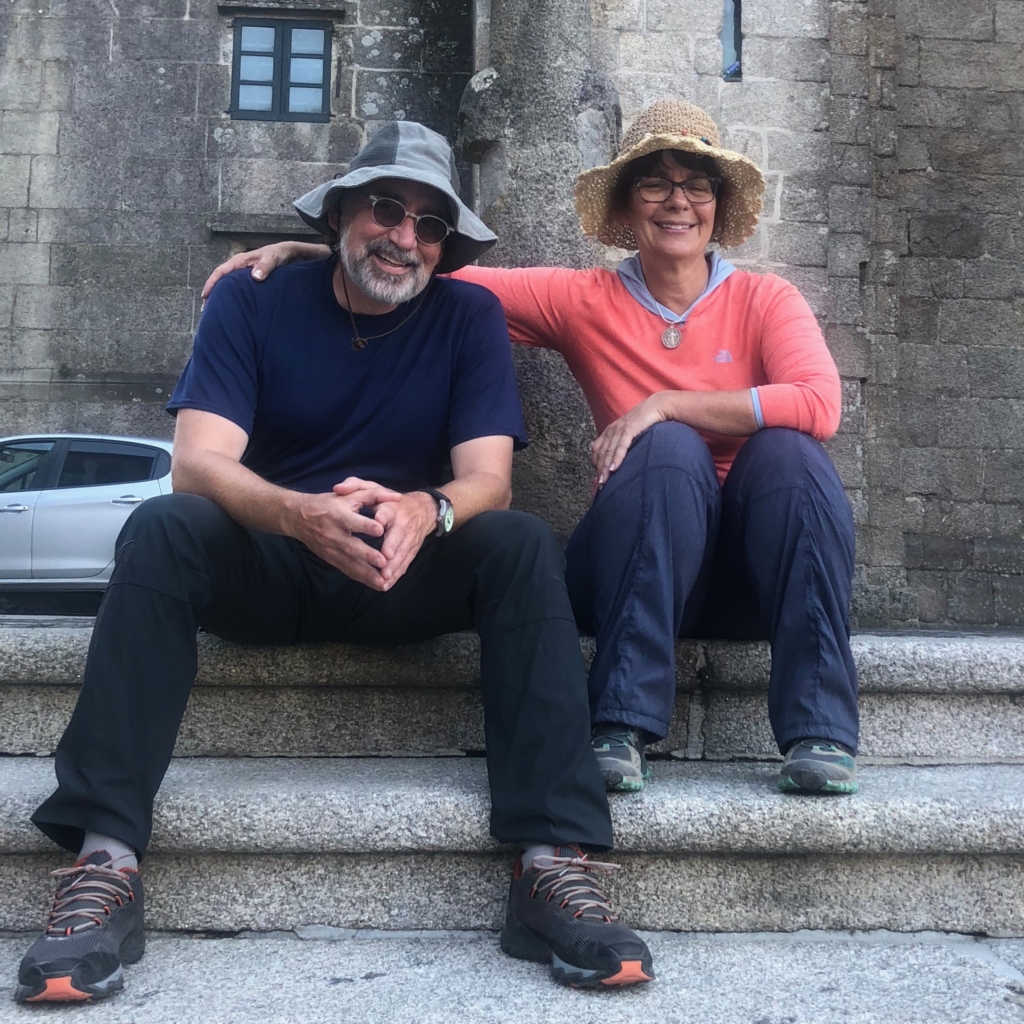 Returning To the Way of St. James
Brian Zahnd
But I would walk five hundred miles
And I would walk five hundred more
Just to be the man who walks a thousand miles
To fall down at your door
–The Proclaimers
In the fall of 2016 Peri and I walked 500 miles from St.-Jean-Pied-de-Port, France to Santiago de Compostela, Spain along the 1,200 year-old Camino Francés pilgrim route. It's one of the best things I've ever done. It may have blistered my feet, but it healed my soul. The truth is, when I set out from St.-Jean on September 14, 2016 (Holy Cross Day) I didn't know how much healing my soul needed. But as we walked into Santiago forty days later I was aware that I had walked into a deep peace that is still with me today. Though it may sound like a cliché, I can honestly say the Camino changed my life. Peri tells the story from her perspective in her Camino memoir, Every Scene By Heart.
Last year for our vacation we walked the Camino Portuguése from Porto, Portugal to Santiago — a pilgrimage of 160 miles that took two weeks. It was a Camino tune up, but not the same as the long 500-mile walk. Unfortunately, Peri developed a stress fracture of her tibia on this Camino and ended up on crutches for eight weeks! The Camino does present physical challenges.
This fall we are returning to the 500-mile Camino Francés. We begin walking on September 12 and will return to St. Joseph in time to celebrate the 38th anniversary of Word of Life Church on November 3. After pastoring Word of Life for nearly four decades we now have an excellent pastoral staff and the congregation will be just fine while Peri and I go for a long walk. But why do I want to go on another big Camino? I have a fairly definite reason.

Earlier this year I turned 60 — an event I found somewhat shocking. (Where did 19 go?) As I evaluate my life thus far, it seems to fall rather neatly into 15-year segments.
Childhood (Birth to 15): This was mostly about learning — learning to walk and talk, read and write, how to tie my shoes and how to make friends.
Beginnings (15–30): I started following Jesus at 15, married Peri at 21, became a father and started Word of Life Church at 22. It was both an exciting and challenging time. The first seven years of Word of Life involved a lot of struggles, frustration, and poverty.
Achieving (30–45): This was a season of success. Word of Life grew enormously during this time — from less than a hundred to a few thousand. When I was 37 we built our 2,000 seat sanctuary. I began receiving speaking invitations and traveled widely. It was a good time and a dangerous time. And it most certainly was not the end of the journey. Though I didn't understand it at the time, I was still in the first half of life.
Rethinking (45–60): At age 45, having achieved success in ministry according to the metrics that Americans like to measure most things, I began to rethink everything. I went through a profound spiritual and theological shift, losing a lot of church members and dear friends in the process. Strange as it may seem, making that spiritual and theological shift is the thing I'm most proud of — perhaps because it is the hardest thing I've ever done. It was simultaneously a time of profound spiritual joy and deep personal pain. This is the story I tell in my book Water To Wine.
So what comes next? What about the next fifteen years? What about the journey from 60 to 75? That's the main reason I want to go for a long walk — I want to have some time to think and pray about it. I know I want to continue to pastor Word of Life and to write books; I know I want to keep teaching Prayer Schools; but I also have a sense that I want to do so from a deeper, more contemplative, more compassionate place. I suppose my goal in this next stage of life is to became a true elder.
I've got a book coming out in December — The Unvarnished Jesus: A Lenten Journey. And now I'm in the beginning stages of new book with the working title, What Can We Do When Everything Is On Fire?. In this book I want to speak to the challenges of maintaining Christian faith in an increasingly secular age. I want to try to help those on the verge of being done with Christianity to perhaps not be done. I think a long walk with Jesus (and Peri) across Spain this fall will help bring some of these musings and ideas into focus. But most of all I just know it will be good for my soul, and in this age of rage and madness, I want to be pastor and author who preaches and writes from a healthy soul. So today we're leaving for the airport and by Thursday we'll be crossing the Pyrenees.
If you think of it, pray for Peri and me.
Peace to you all.
BZ
(The picture was taken last year in Tui, Spain on the Portuguése Camino.)